Wanderlust Adventures
When we say we get to work, eat, and play "lakeside" every day, we mean it. While most creative agencies have to travel some distance to get into the great outdoors or next to one of Minnesota's 10,000 lakes, we literally just have to walk through our patio door. Our team has had the pleasure of working on the shores of beautiful Lake Bemidji since January of 2019, which means it's not an uncommon sight to see one of our crew take lunch or a host creative meeting outside on the deck.
This month one of our owners surprised the team with a brand new grill and even threw on his chef hat to whip us up a delicious lunch...lakeside of course! What a great little team building gathering - BBQ,  sunshine, conversation and laughter!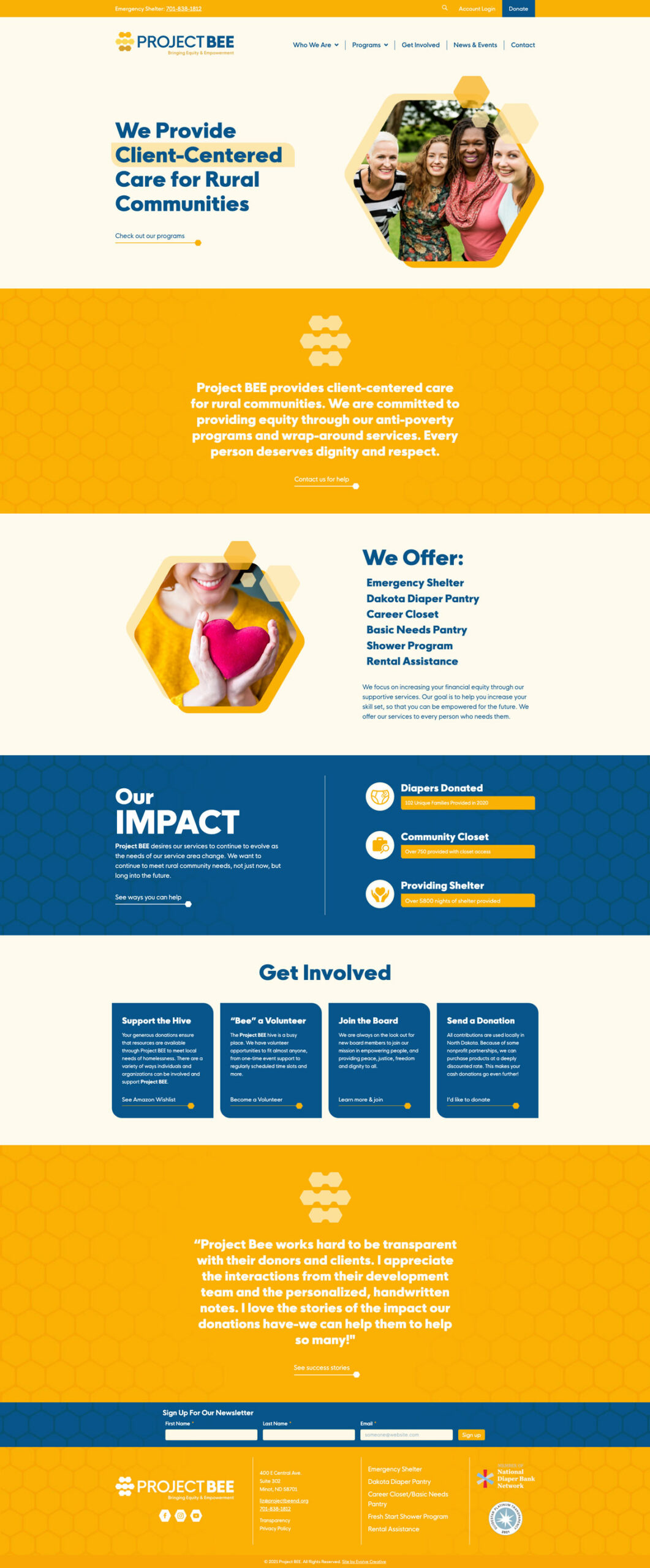 We've been busy as a bee on this fun project! Formerly known as the YWCA Minot, the rebranded organization is now called Project BEE. Evolve helped in the strategy of the new name and development of the brand and website. Project BEE helps community members who have suffered setbacks, preserve their sense of self-worth without fear of deprivation, so individuals and their families have access to housing, education and employment. Get inside the sweet hive
here
!
Commemorative business anniversaries are always a good time to refresh your logo! Since 1963, Ryan Manufacturing has focused on the production of turned machine parts, specially made and used by heavy equipment manufacturers within the mining, construction, logging and agricultural industries. With their 60th anniversary approaching in June 2023, Ryan Manufacturing has officially kicked off their brand makeover journey!
Charps has grown from a small-Midwest pipeline construction and maintenance company to a contractor performing services throughout the country in all environments with best in class safety, quality and efficiency. Our team has been busy the last couple months working on their NEW website, which was just launched last week.
FOOD FOR THOUGHT
Why partner with a creative agency? Building a successful brand doesn't just happen overnight. It's takes a lot of work to build trust and forge strong relationships with your target audience. Much of that work is done through marketing efforts. There is also the importance of proper brand management. Unless you have an internal team to help you tell your story and keep your brand cutting edge, it's likely you'll need a little support in crafting and executing your marketing strategy and content creation. That's where you may need to turn to and partner with a creative agency.
Insider Insights
Why have companies everywhere been looking to up their digital ad game? We've teamed up with our digital advertising partner AdShark Marketing to tell you why! AdShark Marketing, based out of Fargo, North Dakota, houses a team of SEO, ECommerce Marketing, and digital advertising experts. They eat, sleep, and breathe internet marketing, while actively staying in tune with all its evolving changes. Having helped over 170 businesses up their online ad game, their passion for growing YOUR business is truly THEIR business. Get the scoop!
Creative Hack
Ever wonder what your competitors are spending on Facebook ads?? There is an easy way to find out. Just go to their business page on Facebook and scroll all the way down to the lower left. Here you will find the title Page Transparency. Click on See All and you just got the keys to the castle.
We had the pleasure of working with
Second Harvest Heartland
in the creation of 3 explainer videos to help drive awareness of and increase participation with free summer meal programs. With school being out, summer can mean higher grocery bills. But there are resources to help!
Thousands of meal sites including neighborhood schools, parks, and libraries across Minnesota provide kids ages 18 and under with free, nutritious meals and snacks.
More than 400 food shelves and pop-up distribution sites offer free, nutritious food for families.
Public programs like SNAP can help cover the grocery bill when you need it.
Find more information on ways keep your fridge full this summer
here
!
Curious To See More?
Follow us on Instagram for more project highlights, creative inspiration and our team wanderlust adventures!
Don't miss out on our tips!
Submit your email to receive the latest tips & tricks to help your business succeed!