Building a successful brand doesn't just happen overnight. It's takes a lot of work to build trust, forge strong relationships, and nurture those relationships with your target audience. Much of that work is done through constant marketing efforts: proper brand management, content creation, and keeping abreast to the latest in technology, industry trends and of most important, always listening to your customers. Unless you have a dedicated in-house team, it's likely you'll need a little support in crafting and executing your marketing strategy and content creation. There also may be areas of expertise and specialization that only partnering with a creative agency can bring.
In a recent blog article written by Morning Brew's contributor Phoebe Bain she explored the perks and challenges of taking the creative capabilities in-house. In an excerpt of her article she states that "Marketers say internal creative teams have the benefit of being closer to the brand itself, meaning they can turn work around at a faster clip and have a better understanding of what's needed. But in-housing isn't necessarily a cheaper or more efficient option for marketers, especially ones who rely on agencies for a broader range of skill sets and expertise."
Marketers agree that internal teams can act quickly and be more agile—but nixing an agency has its downsides. — Phoebe Bain (Contributor, Morning Brew)
There's no doubt that the last year has been a challenge for companies and resulted in budget cuts across the board. According to Gartner's annual CMO Spend survey of nearly 400 marketing leaders, budgets have fallen from 11% of company revenue in 2020 to just 6.4% in 2021. In addition to 29% of work that was previously done by external agencies has NOW moved in-house over the last year. However, most marketers agree that using an outside agency can be extremely beneficial in bringing fresh perspectives, expertise and technologies to your business.
Each creative agency can be a little different in their specialized services, but most will offer marketing and strategy plans, graphic design/content creation, website development and videography/photography. Below is a closer look at some of the creative items you may need assistance with:
PPC/Paid Advertising
SEO/SEM
Social Media Management
Paid Ad Management
Headshots
Product Shots
Logo Design/Refresh
Re-branding
New Website
E-Commerce Website
Website Refresh
Videography
Letterhead Design
Business Card Design
Rack Card
Postcards
Brochure Design
Sales Sheet Design
PowerPoint Template Design
Sales Deck
Print Material
Annual Reports, Portfolio & Proposal Design
Catalog & Manual Design
Sales Signage & Campaign Ads
Roll-up Banner & Tradeshow Booth Design
Product Packaging Design
E-blast Templates
Google Display Ads
Social Media Ads (Facebook/Instagram/Linkedin)
Storefront Signage
Vehicle Wraps & Graphics
Promotional Item Design
Marketing Audit
Marketing Plan
Business Coaching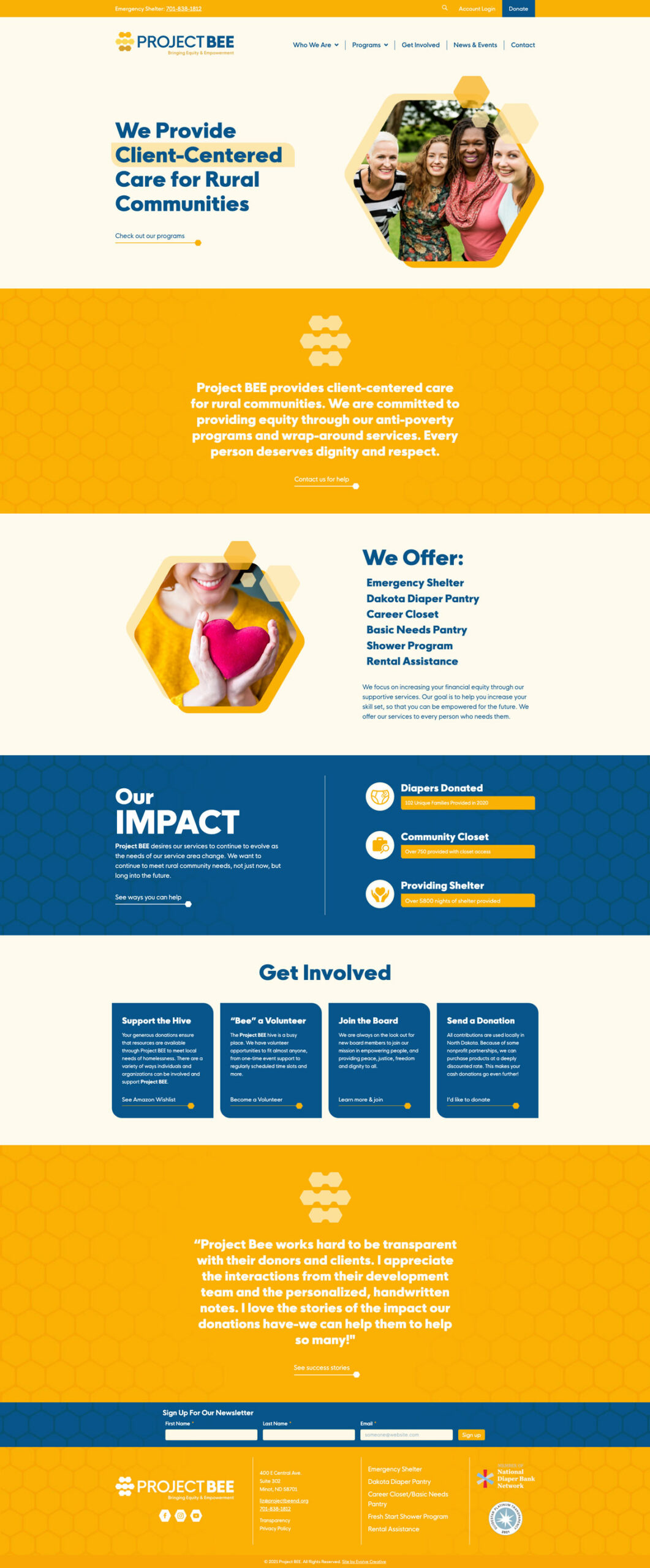 What To Look For in a Creative Agency
Finding the perfect creative partner is a lot like dating. It can be time consuming, confusing and might mean you have to go on a few bad dates to truly find the perfect fit. When looking for that perfect creative partner, it's important you get to know them for not only their industry expertise and specialized services, but knowing their agency's core values, personality and what the process might look like while working together. Ultimately, your creative agency should clearly understand your needs, have a great communication skills and all around be a trusting extension of your team. Bottom line, working together should be just as fun, as it is beneficial to growing your business!

How To Find Your Perfect Partner
#1 Portfolio & Past Clients
While researching agencies, make sure you dive into their portfolio page to peruse their productions and get a feel for their skill level and past clients. Feel free to contact these businesses listed, and ask about how satisfied they were with the agency. Read any testimonials found on their website, or reviews left on Facebook, Google or Bing Business pages. A company continuing to use the same agency year after year is a mark of sound business relationship. If you can vet down your options beforehand, you can guarantee a more successful and productive experience later on.
#2 Compatibility Is Key
After you've established what some of your greatest creative and marketing needs are, you can then better evaluate different agencies. Not only for ensuring your project goals are met, but also long term business goals. Selecting an agency that aligns best with your brand, vision and values is just as important as the technical and design style they can bring to the table. Trust is another huge factor. You've worked hard to build your business and brand, so knowing you're in good hands is also crucial. Last but not least, find a team that is very personable and fun to work with.
#3 Creative Communication
Entering into a creative partnership requires both parties to be very transparent, timely and thorough in communication efforts. It's also important to establish right out of the gate which style of communication is preferred: in-person, email, phone call or video conference, as well as have that point people to represent and manage the projects at hand. Here at Evolve Creative we believe creative consultations should be more like campfire chats. A place to find the best in collaboration and creative ideas, but also just a great way to get to know one another.
#4 Goal Getters
Everything your creative agency does needs to rooted in understanding your business, your goals, and your vision. Make sure they have strong process in place that asks the right questions to learn more about your company, audience, competitors, channels and business goals through a discovery or strategy session. Will they provide recommendations for other ideas or services you may not have considered? Utilizing the information sourced from discovery and strategy sessions is crucial in the success of the design phase to ensure they accomplish your overarching goals all the way through to development. Being a true goal getter means helping your business grow is their #1 priority.
#5 Expectations
What would be expected of you when working with your creative agency on a logo refresh, new ecommerce website or promo video? What kind of timeline and turnaround can they offer? Do they offer a Marketing Audit or Marketing Plan? Make sure to ask if your agency offers a FREE creative consultation to get a 30,000ft. view of your business' needs. This can help them devise both creative recommendations, as well as ballpark pricing for your needed services. This can also be very helpful when your planning both short and long term marketing goals and budgets.
Ready to Start Your Journey?
We are a creative agency proudly located in Bemidji, Minnesota. Our small, carefully chosen team expertly handcrafts brands that are daring in design to stand out from the competition. We collaborate to understand and align with your business, your goals, your team, and your vision. Start your journey with our guide.
Don't miss out on our tips!
Submit your email to receive the latest tips & tricks to help your business succeed!